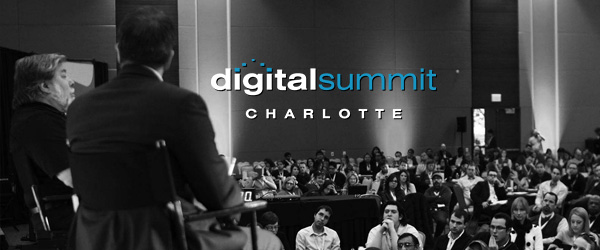 What a week! The Digital Summit came to the Queen City and brought with it some of the brightest minds in digital marketing. We had keynotes from Steve Wozniak (yes, the other Apple guy), Bob Young of RedHat fame and now Lulu.com, and Twitter's Robin Wheeler, plus dozens of great speakers representing companies from Hubspot to LinkedIn to Forrester.
If you weren't following along on Twitter, here are our top ten takeaways from the two-day conference:
10. Customer experience matters. "63% of people will share a positive brand experience they've had on Twitter." @robinw
9. Technology has shifted power to the consumer, with mobile leading the charge. Mobile apps are now the true drivers of customer engagement.
8. On eCommerce: "8% of returning customers generate 41% of online revenue" @arjpearson
7. On Social: "Social is still a new industry. Don't pretend you've got everything figured out." @searchdonna
6. Want to put a number on your SEO investment that CMOs can understand? Try this:

5. Stop shotgunning your email marketing. Did you know that 90% of decision makers ignore cold emails? If you're not thinking about marketing automation tools you should be.
4. Design Matters: 53% of marketing-based emails sent are opened on mobile devices. 80% are deleted if they don't look good.
3. Mobile Rules: If your website isn't mobile-friendly by April 21st you can expect a measurable drop in your Google organic search results. Not sure if your site is ready? Test it here or just ask us!
2. Optimize the Past. If you're only focused on churning out new blog content you're missing the point. Hubspot found that 76% of monthly blog views came from old posts. So…conversion optimize your old blogs and search optimize high-converting posts! @pamelump
1. Think social is just for B2C? 75% of B2B buyers use social media before buying. Have a social strategy!
Have questions about anything you just read? Let us help you set a course for 2015.