In the fall of 2018 we launched a new website for Granicus, a Minnesota-based organization that helps more than 4,000 government agencies modernize their online services and communication. Granicus is a big company, with five offices – including one in the UK. There are over 185 million citizens on their subscriber network and more than 5 million legislative files stored on their system. This SaaS web project came on the heels of two major acquisitions and the hiring of a new Chief Marketing Officer. Needless to say, the Granicus website was a significant project with lofty goals, an ambitious timeline, and all eyes on deck.
So there were sure to be a few lessons learned along the way, and here they are for your reading pleasure.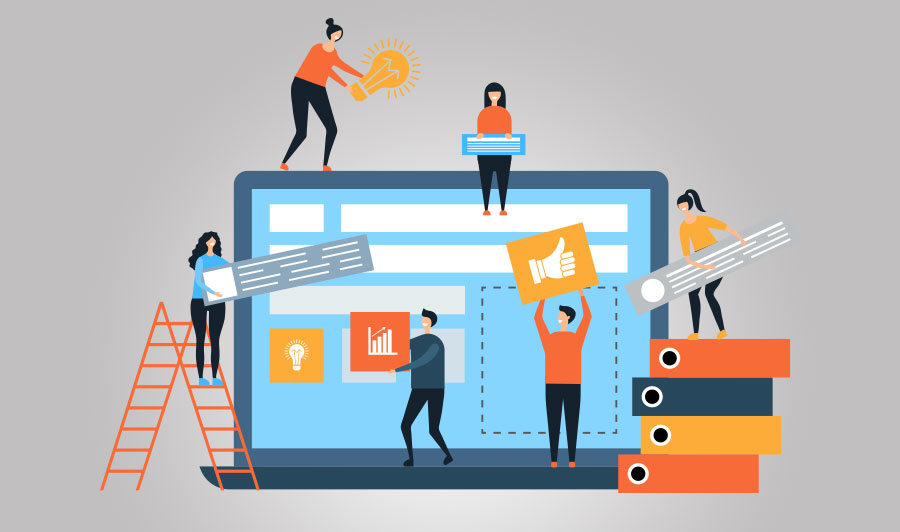 Playing Point with Virtual Teams
Our offices are in Charlotte, NC (Fort Mill, SC to be exact – but if you've ever lived here, you know that's an insignificant detail). Our clients stretch from Boston to Silicon Valley – so the virtual game is one we play quite frequently. This project was no different – the Granicus marketing team is located in Minneapolis; their CMO is in DC. Between Peaktwo and Granicus, we had a dozen folks across three offices involved in this project: C-levels, IT, Designers, Developers, Marketers, and Content Creators.
Fortunately for us, Granicus had a stellar marketing team lead by a true superstar. Here in Charlotte, we had our own, leading a skillful team of designers and developers. Managing so many people across multiple locations made it essential for these team leaders to not only wear the captain's hat for their respective teams, but also to strap on the hook, sword, and pegleg.
Working with a cadre of collaboration tools: Slack, Webex, Monday (our new favorite), AdobeXD, and BugHerd, the captain's streamlined meetings, consolidated efforts, managed tasks, and perhaps most importantly, silenced the "project noise" often common with large teams.
Dealing with Fixed Launch Dates 
As Robert Burns once said "The best laid schemes o' mice an' men / Gang aft a-gley." Or, in today's vernacular – the best laid plans of mice and men often go awry. No matter how well a project is planned, something may still go sideways. This project was planned with an exact launch date in mind, and we nailed that date. Were there hiccups along the way? Of course! No project feels complete without them. Planning a project on paper is great, but communication is the real key to make it reality.
How did we do it? One critical piece were the weekly status meetings. Scheduled at the same time and day each week, these calls (often video conferences) allowed time to review accomplishments, and present what was coming in the week ahead. Some meetings were brief, just quick red, yellow, green status checks. Others were not, the key was to keep them productive.
Factor Approval Times in Your Schedule
The larger the organization, the longer the approval process. When planning your project, it's essential to recognize this up front and allocate approval time into your schedule. Unfortunately, even the most well thought out schedules need flexibility. So when that slip occurs, which it will, you may need to get creative.
As the approval process pushed our schedule, we needed to find some time. We made the choice to begin development early, overlapping with our the completion of design. A tricky maneuver, and yes, the results were challenging. When the remaining  designs did finally received approval, discrepancies existed with design elements approved earlier in the project. Of course these were now built and required some rework, which required more time.
We were fortunate the strategy worked, but it wouldn't be our first choice for the future. Always aim for design approval before rolling into development. If you can, look for other areas further down the line to gain back some time, such as search engine optimization (301 mapping, titles, descriptions), sourcing photography/illustrations, content editing.
Managing Last Minute Surprises
As the project nears completion, it common for new ideas (i.e., animations, features, pages) to be requested. While minor one are easy, larger ones do have a real impact  – not only on the schedule, but ripple effects with code or design. When these are paired with a hard deadline, it is important that both you and the client are realistic in what can be achieved before launch. Instead of forcing the requests, take the time to explain the impact or suggest creative alternatives that offers less project friction. Your client will usually understand and will definitely appreciate the thoughtfulness.
The End Result
The Granicus website was a tremendous success, extremely well received by the client and their stakeholders. It was definitely a win in our book and one of our recent favorites.
You can see the final product at www.granicus.com.